When this all began many people liked the idea of working from home. Now, workers across the country long for chats over coffee and the craic in the office.
Joe is sitting on a kitchen chair at his makeshift desk typing away on his laptop. He is wearing a shirt and tie on the top along with his pyjama bottoms, he has a team zoom call at 11.
This room used to be a playroom for the kids. He still stands on the odd toy that finds it way out of the chest when the kids sneak in. There was a hard-fought negotiation, the deal was he took this room during the day and the kids could have the rest of the house (doesn't always work this way but it will do). Now the only communal room is the kitchen/living room.
Originally Joe was just busy so he got on with things but the longer he was stuck in this playroom the more he started to feel isolated from his team and started to feel a bit lonely.
Morning Routine
Joe did a bit of research online and identified a few things that he thought he could do to help with his current mental health.
Joe started off with great intentions initially, getting up early and then going for a jog in the morning. This was short-lived and was now getting up at 8.50 to turn on his PC and send a few messages before taking his time making breakfast and coffee.
Joe read that changing his morning routine could have a great effect on his general mood. He knew a jog every morning is unrealistic so he set himself a more realistic morning routine:
After doing this for a number of days his mood improved and he actually noticed himself being more productive too.
Team Catch Ups
Joe had started to feel more isolated from the office as he was dealing with clients more than his colleagues. They had a company WhatsApp group but think it was mainly used to pass phone messages to each other or asking for information regarding clients.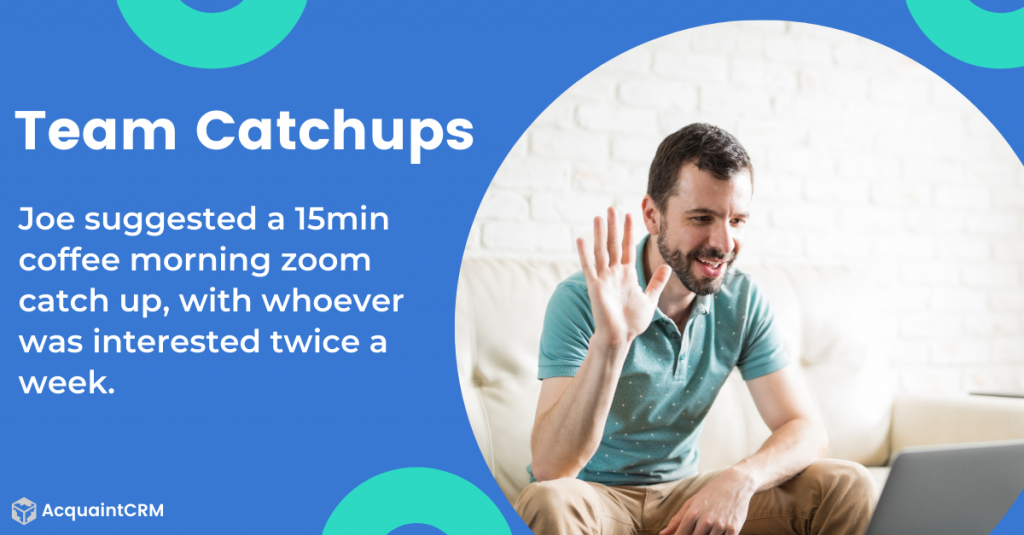 It turned out quite a few of his colleagues were also missing the chats, so were very keen to partake. This has been going for a number of weeks and has really helped Joe feel like part of the team.
Regular breaks and fresh air
 If Joe was in the office he would normally go down the road to get a coffee at about 11 and was up and around the office a lot more than he was when working from home.
He has noticed that taking breaks has improved his mood and also reduced some of the stress he was feeling. He is also glad he set a reminder as he would certainly forget otherwise.
Make plans
Joe noticed that without the structure of the office he found his work time eating into his personal time, he was taking shorter lunches (or eating at the desk) and worked later than as he would if he was in the office.
As you can see from the little changes that Joe made in his routine, he has been able to improve his mood and in turn is starting to feel more positive about work and less isolated from the office.
Another great way of making the whole team feel part of a whole is collaboration. This is best done through a central location like a CRM. See how Acquaint is helping 700 Irish Property Professionals collaborate with their teams seamlessly from home, book a demo below.